Doug Ferguson's Cincinnati Chili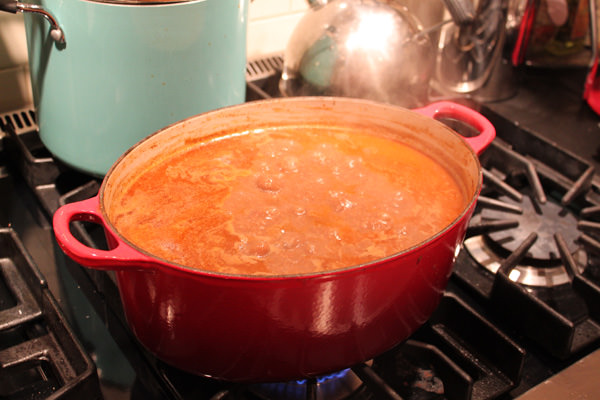 Ingredients
1 1/2 lbs

ground beef

6 cups

cold water

3 tbsp

Chili powder

1 tbsp

paprika

1 tbsp

onion powder

1 tsp

cloves of garlic, minced

1 tsp

allspice

1 tsp

cumin

2 tsp

salt (1 at the beginning and add more to taste later)

1/2 tsp

cayenne (you can and should add more later to taste)

1 tbsp

white wine vinegar

1 tbsp

Worcestershire sauce

9 ounces

tomato paste (1 1/2, 6 oz cans – a bit of a waste, I know)

2

bay leaves
Directions
Add the beef to large pot and cover with water. Break it up with a fork until the meat breaks up into small pieces.
Bring to a simmer and add all your ingredients and bring to a boil.
Reduce to a simmer and let is bubble for at least 2 hours. Adjust your seasoning to your liking.
You may continue to reduce the mixture for as much as another hour. You want to get it so it's not running a clear liquid out from a slotted spoon. It needs to be one, saucy product.
You can also add a teaspoon of unsweetened cocoa powder and I've seen recipes using beef broth which I've tried before, but I would avoid recipes that suggest you add crushed tomatoes, diced onion or garlic. I don't think you want those textures messing with the fine grain of the meat.
Add garlic powder for more or less flavor to your liking.
Prep time:

20 minutes

Cook time:

3 hours

Total time:

3 hour & 30 minutes
Yield: 6-8 servings