Dawn DeAngelis' Winter Green Salad with Walnuts and Apples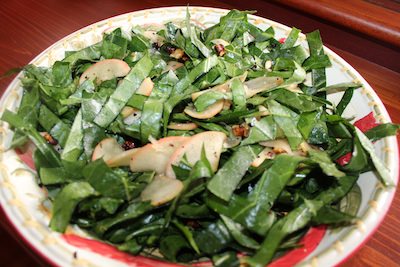 Ingredients
2

red apples such as Gala or Idared

1/2 cup

cinder vinegar

1 cup

water

1/2 cup

sugar

1 tsp

salt

1/2 cup (3 oz.)

walnut halves

1/4 cup

olive oil

1 bunch (1 lb.)

collard greens

1/2 tsp

kosher salt
Make pickled apples: Directions
Quarter and core apples, then cut each quarter lengthwise into 1/8-inch-thick slices.
Boil vinegar, water, sugar, salt, and pickling spice in a saucepan, stirring, until sugar is dissolved.
Add apples and return to a boil. Transfer to a heatproof bowl and cool. Chill, uncovered, until cold, about 1 hour.
Prepare nuts while apples chill: Directions
Toast walnuts in oil in a small skillet over moderate heat, stirring occasionally, until a shade darker.
Cool nuts in oil. Transfer nuts to a cutting board with a slotted spoon, reserving oil.
Coarsely chop 1 tablespoon nuts and finely chop remaining nuts.
Preparing Collard Greens Directions
Halve each collard leaf lengthwise with kitchen shears or a sharp knife, cutting out and discarding center ribs.
Stack leaves and cut crosswise into 1/4-inch-wide strips. Transfer to a large bowl.
Just before serving Directions
Transfer all nuts and oil from skillet to collards and toss with 1/2 teaspoon salt and pepper to taste.
Add apple slices, discarding pickling liquid and spices, and toss again.
Prep time:

1 hour

Cook time:

25 minutes

Total time:

1 hour & 30 minutes
Yield: 6-8 servings