Cream of Broccoli Soup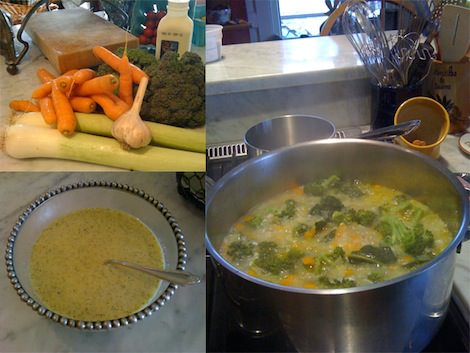 Ingredients
9 tablespoons

butter

1 1/2 cup

leeks, minced

1 1/2 cup

carrots, minced

2

garlic cloves, minced

6 cups

chicken or vegetable broth

1 1/2 head

broccoli, cut into small florets

1 1/2 cups

heavy cream

1 1/2 pinches

cayenne pepper or to taste

1 1/2 teaspoon

celery seed

Salt & Peper to taste
Directions
In a pot, melt butter over medium heat. Add leeks, carrots, garlic. Cook until tender but be sure not to brown (about 5 minutes).
Add the broth and bring to a simmer. Add the broccoli. Cook 8-10 minutes until the broccoli is tender.
Pour the soup into a processor (may need to do in batches) and process until veggies are finely chopped but not pureed.
Pour soup back into pot. Stir in cream, celery seed and salt and pepper.
Reheat before serving, or freeze in batches as you await another cool day!! Enjoy!
Prep time:

30

Cook time:

45

Total time:

1 hour & 15 minutes
Yield: 8-10