Coveted Sugar Cookie Recipe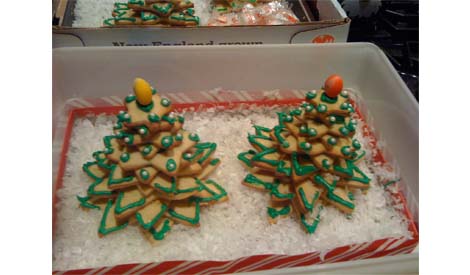 Ingredients
Basic Dough
6 cups flour
1 Tbsp salt
1 lb shortening
Mix the flour and salt and then cut the shortening in until it resembles coarse meal. This will keep for weeks.
For the Sugar Cookies (to make 4 dozen cookies)
2 cups of basic dough
3/4 cup sugar
1 tsp baking powder
1/4 cup flour
1 egg
1 tsp vanilla
Evaporated Milk
Instructions
Preheat the oven to 375 degrees
Mix the dough, sugar, flour and baking powder. The add the egg and vanilla and blend well until dough is soft. Roll the dough out to desired thickness. We like 1/8-1/4" and press out your favorite shapes. Place on a parchment lined cookie sheet, brush with evaporated milk, decorate as desired with sprinkles, nuts, dried fruit and bake for 8-10 minutes. Remove from oven, let cool a titch on the cookie sheet and then remove to a rack to cool.
To make the trees, you can make or buy frosting and add green food coloring. I have 6 different sized stars and stack 2 of the larger sizes up to the smaller sizes. It's really up to you how you want to decorate them. The I got an old shoe box cover, glued some ribbon around the edge, glued some "snow" and placed some peppermint candies to make a nice edible arrangement.