Heirloom Caramel Apples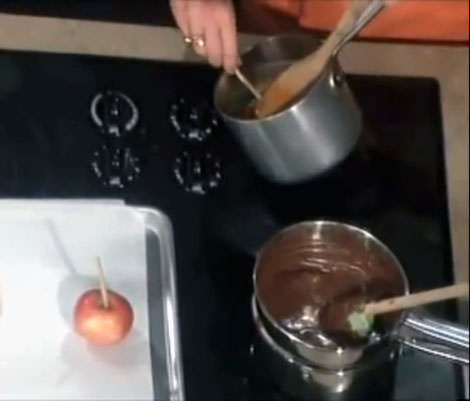 Homemade Caramel Apples Ingredients
6-8

small apples, unwaxed, cold and craft sticks

1 cup

heavy cream

1/2 Teaspoon

sea salt

1 cup

honey
Caramel Apples using Caramel Candies Ingredients
5

medium apples, washed, well dried

1 bag (11 oz.)

KRAFT Caramel Bits

2 Tablespoons

Water
Homemade Caramel Apples Directions
Line a baking sheet with parchment or wax paper.
Fill a large bowl 1/2 full with ice water and set aside.
In a medium saucepan, heat the cream and salt until tiny bubbles start forming where the cream touches the pan.
Stir in the honey. Bring the mixture to a boil.
Now reduce the heat to an active simmer and cook, stirring constantly with a wooden spoon, for about 15-20 minutes, or until the mixture reaches about 255-260 degrees on your candy thermometer.
To stop the caramel from cooking, set the bottom of the saucepan in the bowl of cold water.
Stir until caramel begins to thicken. Here is where there is a little bit of "art" - the caramel has to be thin enough to coat the apples but thick enough to stick. If the caramel thickens too much simply put the pot back over the burner for 10 seconds or so to heat it up a bit.
Tilt the saucepan so all the caramel forms a pool on one side, then dunk and twirl each apple until it is thoroughly coated with caramel.
Place each apple on the baking sheets and allow the caramel to cool and set. Enjoy!
Caramel Apples using Caramel Candies Directions
Insert one wooden pop stick (from bag of caramels) into stem end of each apple.
Cover a baking sheet with waxed paper; spray with cooking spray. Set aside.
Add water; cook on medium-low heat 3 min. or until caramel bits are completely melted, stirring constantly.
Dip apples into melted caramel until evenly coated, spooning caramel over apples if necessary.
Allow excess caramel to drip off. Scrape bottoms of apples; place on prepared baking sheet.
Refrigerate at least 1 hour. Remove from refrigerator 15 min. before serving.
Store any leftover apples in refrigerator.
Prep time:

10 minutes

Cook time:

15-20 minutes

Total time:

1 hour & 30 minutes
Yield: 5-8 Apples