Brent Wasser's White Asparagus with Goat Milk Bechamel Sauce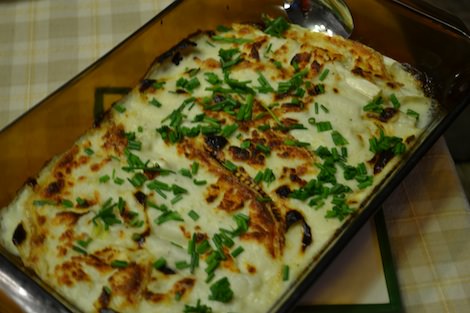 Ingredients
1 bunch

White Asparagus

4 Tbsp

Butter

4 Tbsp

Flour

1 Tbsp

Minced Young Garlic

2 1/2 Cups

Goat Milk, Heated

Salt & Pepper to tastes

Pave of goat cheese (thinly sliced)

Minced Chives for garnish
Directions
Blanch the cleaned and trimmed asparagus. Drain and arrange in a pan.
Preheat the oven to 350 degrees.
Melt butter in a saucepan over medium heat. Add the flour stirring constantly until it cooks and bubbles a bit, but do not let it brown — about 2 minutes.
Next, add the garlic, stir for another minute.
Add the hot goat milk, continuing to stir as the sauce thickens. Bring it to a boil.
Add salt and pepper to taste, lower the heat, and cook, stirring for 2 to 3 minutes more.
Pour over asparagus and top with thinly sliced goat cheese.
Bake in center of oven until bubbling and beginning to turn golden.
Then turn oven to high broil and finish it off under the broiler until browned.
Prep time:

20 minutes

Cook time:

20 minutes

Total time:

40 minutes
Yield: 4-6 servings