Blueberry Yogurt Coffee Cake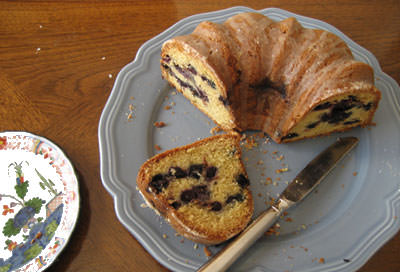 Topping Ingredients
1 cup

Sugar

1 teaspoon

Cinnamon

2 tablespoons

butter, chilled and cut up
Cake Ingredients
8 Tablespoons (One Stick)

Butter, Softened

1 1/2 cups

packed brown sugar

1

Egg

1 teaspoon

Baking Soda

2 cups

Flour

1 cup

Plain Yogurt

1 teaspoon

Vanilla extract

2 cups

Blueberries (fresh or frozen)
Directions
Preheat oven to 350 degrees.
Butter a 9 x13 baking dish. Using a fork, blend topping ingredients in small bowl and set aside.
Cream the butter, brown sugar and egg (I do it by hand with a fork, but a mixer works wonders!)
Add baking soda, flour, yogurt and vanilla and mix on medium speed for 2-3 minutes.
Pour cake batter into prepared baking dish.
Sprinkle berries over top and gently push into batter and then sprinkle sugar topping over all.
Bake 45-50 minutes. Cool and cut into squares. Enjoy!
Prep time:

15 minutes

Cook time:

45-50 minutes

Total time:

1 hour
Yield: 12-24 pieces