Aunt France's Torrone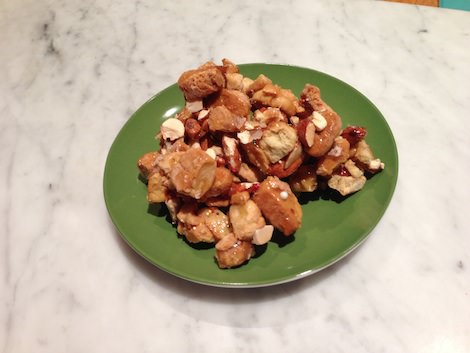 Tidbits:
Ingredients:
12 Cups Flour
1 ½ Cups Sugar
4 Sticks of Butter, softened
6 Eggs
2 Teaspoons baking powder
1 Teaspoon Vanilla
Milk, as needed for consistency
Instructions:
Preheat oven to 375 degrees
Combine sugar and softened butter, stirring until smooth. Add eggs and stir. Gradually add flour, baking powder, and vanilla. Add milk as necessary to form into a large ball and place in a clean bowl and cover. Cut off sections of dough from the ball and form into a rope one at a time. Cut tidbits to size and place apart on a cookie sheet. Bake about 10 minutes or until golden brown. Cool and set aside.
Nuts and Honey:
Ingredients:
3-4 lbs. blanched almonds
2 Cups Honey
1 ½ Cups Sugar
1 Orange- zest and juice
Instructions:
Place equal parts blanched nuts and tidbits together in a bowl.
Bring honey and sugar to a boil and cook, stirring, for 5-10 minutes, then add orange juice and rind and stir. Add tidbits to honey pot thoroughly coating the mixture. Pour out onto a cookie sheet and sprinkle cinnamon and sprinkles on top. Allow to cool and harden and then break into bite sized pieces.