Almond Fingers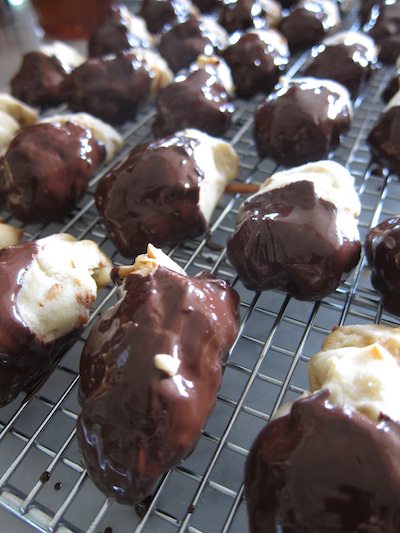 Ingredients
1 cup

butter

1/2 cup

sugar

1 tbsp

milk

1 tsp

vanilla extract

1/4 tsp

salt

2 cups

flour

2 cups

toasted, slivered almonds

6 oz.

package of semi-sweet chocolate

2 Tbsp

Shortening
Directions
Beat butter and sugar until light and fluffy.
Then add milk, vanilla, salt. With a hand mixer at a low speed beat in flour to mixture.
Stir in chopped almonds.
Wrap dough in plastic and refrigerate overnight. When ready to bake, preheat oven to 350 degrees.
Shape dough into 2" fingers and place on ungreased cookie sheet or one lined with parchment paper.
Bake for 15 minutes and then cool on a rack.
In a double boiler, melt chocolate with shortening, stirring to blend until smooth.
Dip one end of each cookie into the chocolate. Let dry.
Store in a loosely covered container at room temperature.
Prep time:

30 minutes

Cook time:

15 minutes

Total time:

1 hour
Yield: 5 dozen