Abhishek Duggal's Yellow Heirloom Tomato Caprese with Asparagus and Green Beans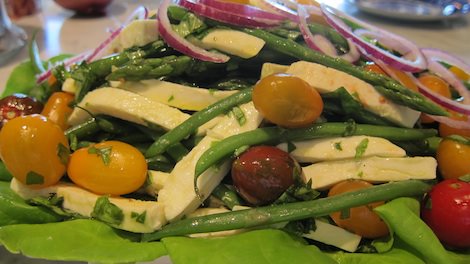 Ingredients
Yellow Heirloom Tomatoes

Bunch of Asparagus

Pound of Green Beans (I used haricort verts)

Fresh Mozzarella

Basil leaves

Extra Virgin Olive Oil

Sea Salt

Cracked Black Pepper

Thinly sliced red onion rings – optional

Butter lettuce – optional
Directions
Wash, core and cut tomatoes into eighth-sized wedges or wash your grape tomatoes.
Blanch cleaned and trimmed asparagus and green beans in heavily salted rapidly boiling water for about 15 seconds and cool in an ice bath.
Drain and set aside. Drain fresh mozzarella and tear apart into small chunks.
Combine cheese, beans, asparagus and basil in a mixing bowl and toss with olive oil, salt and pepper and serve.
Prep time:

15 minutes

Cook time:

5 minutes

Total time:

20 minutes + 8 hours
Yield: 6-8 servings