Sauce Boat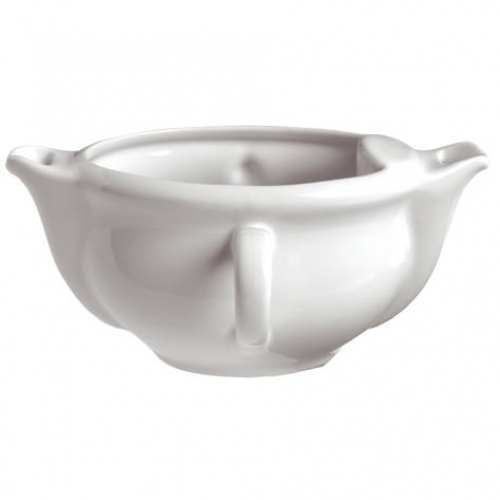 About this Item
This is a Fat/Lean Sauce Boat with Fat Separator. Perfect for a mixed group of guests with varying diets.
How does it work? You pour your gravy into the boat and wait a minute for the fat to rise to the top. Don't worry, the Revol culinary-grade porcelain keeps the gravy nice and hot. There are 2 spouts: one draws fluid only from the bottom of the bowl, the other from the middle. The top spout is for those who want regular gravy; the bottom spout is for those who want lean or low-fat gravy. You can also use it to quickly skim fat from sauces and soups.
Features:
• the porcelain is fired at a high temperature for strength, durability, whiteness and shock-resistance.
• it warms slowly in the oven to maximize flavor and cools slowly on the table to keep the food hot while serving.
• the non-porous porcelain stays bacteria-free and is oven, microwave, dishwasher and freezer-safe.
• made with an environmentally-friendly manufacturing process from their own clay, recycling heat, wind, water and power.
• a favorite of Michelin-starred chefs

Revol Products
There is no question why we love Revol products. It is a company that was founded in 1789 in Rhone Valley, France and is still operated by the same family for 11 generations - talk about family tradition!! Here's how it all began:
A WALK WITH DESTINY... FROM EARTHENWARE TO PORCELAIN
On a Sunday walk after a series of violent storms, two brothers, Joseph-Marie and François Revol, noticed some unusual white streaks. For these specialists, there was no doubt they had found a deposit of kaolin. The region was already producing the red sandstone used by potters and tile makers. The Revol brothers' discovery led to the manufacture of much harder-wearing white stoneware and to the establishment of the REVOL factory in Ponsas, later transferred to Saint-Uze. There followed a succession of stoneware and "terre d'acier" pottery. A few years later, the REVOL factory developed a non-porous formula that could be enameled in various colors, which went on to become the benchmark of fine porcelain.
Details
Size: 6.8"L x 5.2"W x 3"H
Weight: 1 lb
Materials: porcelain
Origin: France
Brand: Revol