Christmas Recipes & Recollections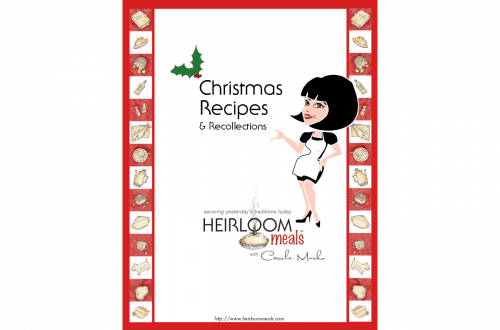 About this Item
A collection of 21 Heirloom Holiday Recipes in instantly-downloadable PDF, which is also formatted for viewing as an ebook.
The recipes appear in order of guest appearance on the accompanying Christmas Special DVD (see sidebar):
Cream Puffs
Lollipops
Lemon Star Cookies
English Nut Bar Shortbread
Mocha Rounds
Granny Stella's Plum Pudding
Simple Candied Orange Peel
Basic Fresh Masa Preparada for Tamales
Classic Shredded Pork with Pasilla Chile Sauce
Pasilla Chile Sauce
Frijoles de la Olla
Frijoles con Chorizo
Ensalada de Nochebuena (Mexican Christmas Salad)
Jane Vaughan's Super Duper Turkey Dressing
German Red Cabbage
Grandmother Ruthie's Sweet Potato Cake
Scott Keough's Eggnog
Chocolate-Dipped Cherry Almond Biscotti
Christmas Goose
Dumplings
Hungarian Kifli
This ebook was designed with great care to fit 3 different formats:
an iPad or digital tablet
an 8.5" x 11" letter-size paper
4 x 6 index cards (2 cards per letter-size page) for those of you who keep your recipes in a box, old-school style.
This is an ebook that's truly designed for multi-generational use, whether you prefer your recipes analog or digital.
Details
Size: 8" x 11", also formatted for 4" x 6" index cards
Brand: Heirloom Meals Originals