DVD Heirloom Meals Thanksgiving Special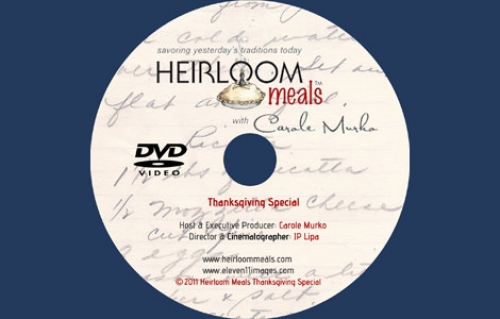 About this Item
Heirloom Meals' Thanksgiving is an hour-long made-for-television program capturing recipes, stories and the deep connection between food, family and heritage.
Heirloom Meals is a storytelling show about treasured family recipes, stories, and tips...savoring yesterday's traditions today. The Thanksgiving Special features people from across the country and across cultures, as they talk about their favorite Thanksgiving recipes and memories. Featured interviews range from a direct descendant of the pilgrims to a newly minted citizen; from a Midwestern housewife to a Southern gentleman to an Italian grandmother. In an interview with a butcher who sells only local pasture-raised meats, we learn the importance of sustainable farming and of buying local food. "At Heirloom Meals, we believe that food is our connection to our past and it is the bridge to our future," said Murko.
The program was filmed on location in the Heirloom Meals kitchen at Boulderwood Farm in beautiful Stockbridge, Massachusetts with sweeping views of the Berkshire countryside. Stockbridge was the home of Norman Rockwell, and there is a segment at the Norman Rockwell Museum in front of the iconic painting, Freedom from Want. This famous Thanksgiving painting strives to capture many aspects of the idealized American Thanksgiving.
FEATURED RECIPES (available as an ebook or downloadable PDF)
Heirloom Manicotti Crêpes
Swiss Green Bean Casserole
Blue Ribbon Country Stuffing
Cooper Boone's Stuffed Corn Bread Muffins
Hazel's Herb Bacon Turkey
Acorn Squash Stuffed with Cranberries
Barnes Family Baked Chocolate Pudding and 'Ice Cream' Sauce Topping
Celeste "Paeo de Queijo" - Cheese Bread
Chipotle Pumpkin Pie with Candied Ginger Double Crust

Sponsors for the show include heirloom egg producer Pete and Gerry's Organic Eggs; Stonyfield Organic Oikos, the leading organic Greek yogurt; Sears/K-Mart; Hearst Brand Development; KWC-America, a leader in luxury Swiss-made kitchen faucets; The Round Barn, a distinctive Bed and Breakfast in Waitsfield, VT; Nejaimes, wine merchants in the Berkshires and The Moore Family Foundation.
Heirloom Meals' Thanksgiving first aired in November 2011 on Public Television stations throughout the USA.
Details
Weight: 0
Brand: Heirloom Meals Originals