Hans Morris' Linguine with Clam Sauce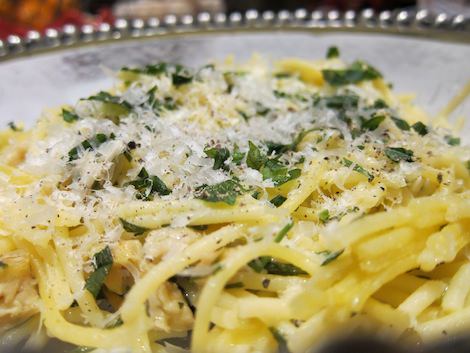 This was a staple of our weekly dinners during the early to mid 70's. It got our family through Watergate, the evacuation of Vietnam, the first energy crisis, and the arrival of Grandpa List as a permanent houseguest. It was also a big hit the first time I had to cook for the group I was living with in Jersey City my sophomore year in college. For $10 or so, you could feed 10, thus leaving extra money for beer.
Ingredients
1 Package of linguine pasta
1 Clove garlic, finely chopped
2 Cans whole raw clams (NOT smoked)
½ Teaspoon dried thyme (or 1 Tablespoon fresh thyme)
1 Bay leaf
1 Tablespoon butter, plus 1 Tablespoon olive oil
2 Tablespoons flour
½ Cup clam juice (you can usually squeeze the juice out of the can that the clams come in)
Handful of fresh parsley
Instructions
Melt butter in a sauté pan and add olive oil. When heated and bubbling, add garlic and cook for a few minutes, then sprinkle flour over sauce and allow to cook for two minutes or until it thickens. Whisking, slowly add the clam juice and combine into a smooth sauce. Add the thyme, bay leaf, salt and freshly ground black pepper. If the sauce is too thick, add a little pasta water or dry white wine until it is the proper consistency.
Allow the sauce to simmer for 10 minutes or so to combine flavors. When ready to serve add clams to sauce and allow to heat thoroughly.
Meanwhile cook the pasta and drain. After the sauce has cooked about 10 minutes and the clams are heated, toss on the fresh herbs. Serve over the pasta with fresh parmesan. Serve, and prepare to be an Italian aristocrat.
Makes 6 Servings