Francine Soropoulos Kyriakos's Avgolemono Soup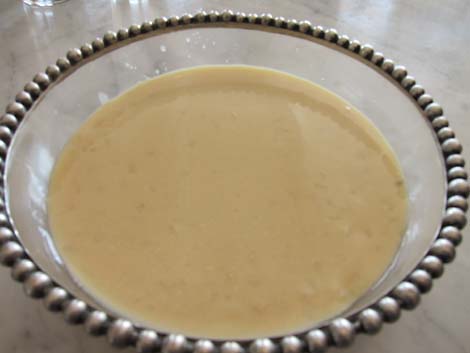 1. Start with 2 quarts any basic chicken broth, homemade or store bought cartons. Bring to boil.
2. Add ½ cup (any type) rice or orzo, and season the broth with salt and pepper. Simmer over low heat for 20 more minutes, until the rice is tender. When the rice is done, turn off the heat.
3. Beat 5 eggs in a blender until light and frothy. Pour in ½ cup lemon juice and 1 tablespoon flour. Whisk one ladle full of hot broth into the eggs slowly so the eggs do not curdle. Gradually whisk in more broth until the egg mixture is heated. Then pour the egg mixture back into the pot, whisking briskly. The result should be a creamy, cloudy looking soup. You may season with additional salt, pepper or lemon juice at this point. Cook over low heat for about 5 minutes stirring constantly.
4. You may add pieces of chicken to the soup before serving.
5. *I often make chicken soup with carrots, celery, parsnips & turnips.
I make a large pot and the next day proceed to step 2, and turn regular soup into Avgolemono. Perfect for wintery days!
Here's Francine's Big Greek family and her daughter's and Mom!! Thank you Francine - lovely!!