Agnes Djaha's Kibbee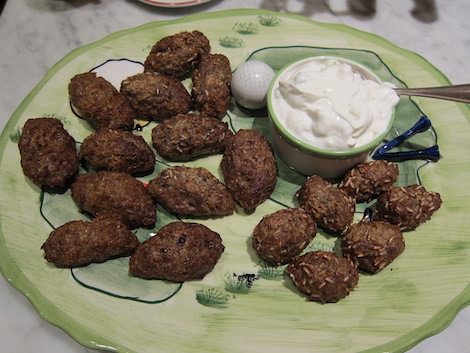 Meat and Rice Stuffing Ingredients
1/2 Cup Uncooked rice
1 lb. Lamb
1/3 Cup Water
2 Tsps Allspice
Salt to taste
Rinse rice and drain. Mix together rice, meat, salt and allspice and add in water and mix.
Kibbee Ingredients
1 lb. lean lamb (finely ground)
½ cup of fine bulgar wheat (#1 bulgar)
1 medium onion, grated
1 tsp. of salt, or to taste
Instructions
Rinse wheat in cold water in a super fine strainer and set aside to absorb moisture. Knead meat, salt, and onion together. Gradually add wheat, squeezing out any excess moisture before adding to meat
Shape into ovals approximately 2 inches in length. It's helpful to use your index finger like a hot dog in a bun to form the crevice for the stuffing, then add it and work the Kibbee mixture around it. Stuff each Kibbee with approximately one tbsp(closer to a teaspoon for me!) of Meat and Rice Stuffing, as above
Butter a baking pan lightly or use parchment paper on the bottom. Place Kibbee ovals on pan and dot each with butter.
Bake in 350 degree oven for approximately 20 minutes, until brown
Serve with Laban and Cucumber Sauce(see recipe below)

Laban and Cucumber Sauce
One quart of plain yogurt
One large cucumber, cubed
Salt to taste
Two garlic cloves, crushed
Mix all ingredients in a bowl and serve cold