Cooper Boone's Turkey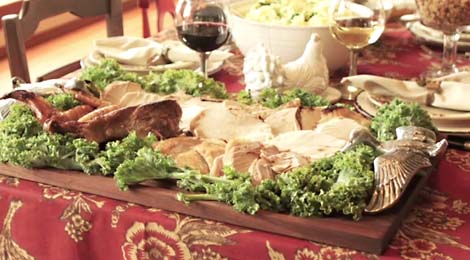 Hazel's Herb Bacon Turkey

Ingredients:


10 slices of raw bacon

½ cup unsalted butter

2 sprigs of thyme

2 sprigs of rosemary

2 sprigs of sage

1 tablespoon garlic powder

Cracked pepper

1 orange


(Use your favorite herbs and be creative!)
Instructions:


Preheat oven to 325F.
Food process all ingredients except the orange until smooth. Stuff mixture under the skin of the turkey. Use a knife to cut an opening between the skin and flesh of the turkey, then use a spatula to open up the skin. Stuff orange inside cavity of turkey.

Put the turkey, breasts face down in the roasting pan, cover with aluminum foil to bake. This will keep it moist, as the breasts are the driest part. .
Roast until meat thermometer reads 165 degrees Fahrenheit. Broil the turkey skin to make it crisp at the end but don't overcook it. Once the bird reaches 165F, leave the thermometer inside the bird, remove from oven and leave the foil on. Let it sit for at least 20 minutes then carve.