Jen's Simple Pizza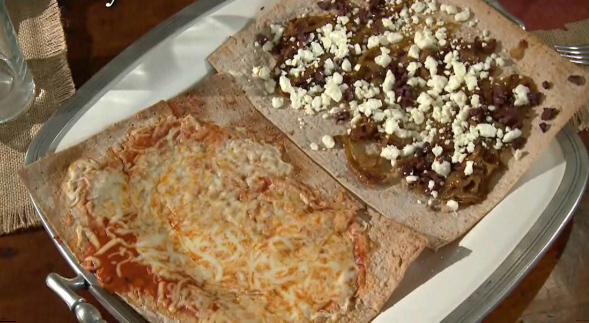 Ingredients
1 whole wheat lavash wrap
Red Sauce:
1 small can tomato sauce
1 clove garlic, sliced
1 Tbsp EVOO
pinch red pepper flakes (optional)
dried oregano, basil or italian seasonings
salt and pepper to taste
low fat shredded mozzarella
Directions
Preheat the oven to 400 degrees.
Heat the EVOO in small saucepan. Add garlic, pepper flakes, and seasoning and heat for about a minute being careful not to burn the garlic.
Add the tomato sauce and cook over low-medium heat. Spray the baking sheet with pam.
Place the lavash on baking sheet and add sauce and a handful of shredded cheese.
Bake for 10 minutes or so until cheese is melted and bubbling.
White Topping:
2 onions, sliced
2 Tbsp EVOO
Crumbled goat cheese or feta
Sliced olives
Arugula and balsamic vinegar (optional but delicious!)
Directions
Saute onions until golden. Spread on lavash, add cheese and olives and bake as above.
Throw a handful of arugula on top of oven-hot pizza with a drizzle of balsamic vinegar for a special treat!