Jack Simko and AnneMarie DeFreest's Hungarian Kifli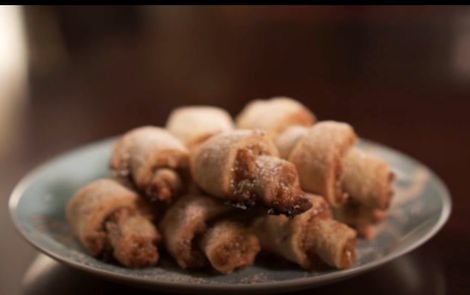 Rumored to be shaped like a crescent to celebrate the freedom of Buda, Hungary from the Ottoman Empire.
Ingredients:
2 sticks butter
2 tablespoons lard; preferably saved from duck or goose fat
½ cup sugar
4 cup sifted all-purpose flour
½ teaspoon salt
6 large egg yolks
¾ cup sour cream
Toppings:
One 16 ounce jar of homemade or store bought thick apricot preserves
½ cup chopped walnuts mixed with 2 tablespoons sugar (this can be made in a food processor with gentle pulsing to prevent walnuts from clumping)
Instructions:
Preheat oven to 375º
Combine the butter, lard, salt, sugar and flour in a large bowl. Work into small granules with a pastry blender. Add the egg yolks and sour cream and mix well.
Form dough into 4 equal sized balls. Roll dough on floured surface into a round shape about 12 inches in diameter, about 1/8 of an inch thick. Spread apricot jam over entire surface of dough. Sprinkle with chopped walnuts mixture.
Cut the round disk as you would a pizza into quarters, then eights, then sixteenths. Pull the first piece and roll from wider end towards pointed tip. The subsequent slices will be easier to roll from their positions once the first one is done. Place on parchment
lined baking sheet and bake for 12 to 14 minutes. Cool on racks and sprinkle with confectioner's sugar.