Gluten, Dairy and Egg-Free Cornbread Stuffing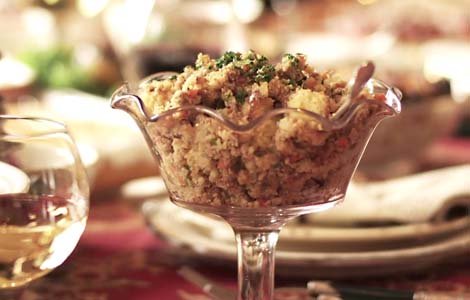 Buckwheat Cornbread
Ingredients:
1 cup buckwheat flour
1/2 cup yellow cornmeal
2 1/2 teaspoons baking powder
1/2 teaspoon salt
1/4 cup sugar
2 flax eggs (1 tablespoon flax meal mixed with 3 tablespoons of water, refrigerated for 15 minutes)
1 1/4 cups almond milk
1/4 cup Earth balance butter
Instructions:
Preheat oven to 400°. Spray loaf pan with Pam. In a large bowl combine the buckwheat flour, cornmeal, baking powder, salt and sugar. In another bowl mix the flax eggs, almond milk and Earth balance butter. Beat until well blended. Add to dry ingredients and stir until they are incorporated. Bake 20 to 30 minutes until done.