Leftover Brown Rice Stir-Fry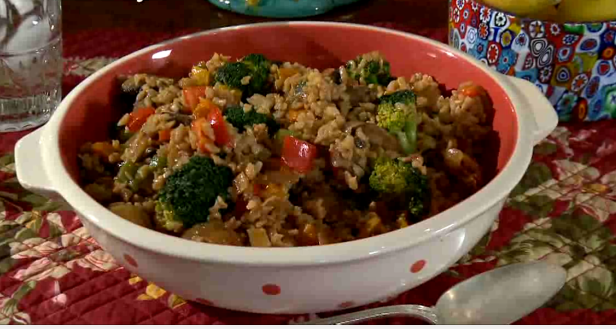 Ingredients
Leftover rice - 2-4 cups
3 Tbsp EVOO
Any and/or all the following veggies:
1-2 onions, chopped
2-3 cloves of garlic, minced
3-4 carrots, peeled and sliced
1 green or red pap per, chopped
broccoli
mushrooms
1/4 cup low-sodium, gluten-free soy sauce
1 egg (optional)
Directions
In a large frying pan or wok, heat 2 Tbsp olive oil.
If using all, start with onion, then add mushrooms and pepper, then carrots, garlic and broccoli.
Saute until browned and desired doneness. Toss the brown rice with 1 Tbsp of EVOO and add to veggies.
Turn the heat up so the rice browns for about 5 minutes.
Add the soy sauce which nicely deglazes the pan and then add an egg if desired.