Italian Wedding Soup According to Carole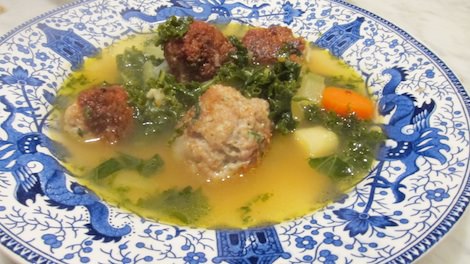 Soup Ingredients
4-5 carrots, peeled and coarsely chopped
4-5 celery stalks, peeled and coarsely chopped
5-6 parsnips, peeled and coarsely chopped
2 onions, chopped
2 garlic cloves, minced
½ cup white wine
2 ½ quarts chicken stock
6 cups Kale, chopped
Instructions
In a soup pot, heat 2 Tbsp olive oil over medium heat. Add the onions, carrots, parsnips, and celery and sauté for 5- 10 minutes until onions are soft and veggies are a little golden. Add the white wine and cook for a few minutes and then add the chicken stock. Bring to a boil and then simmer over medium heat. Add the Kale. While that's simmering, make your meatballs.
Meatball Ingredients
2 lbs ground turkey
2 Tbsp fesh parsley, minced
1 Tbsp fresh oregano, minced
1 egg
½ cup Pecorino Romano
½ Gluten free bread crumbs
Garlic salt to taste
Sea Salt to taste
Pepper to taste
Olive oil
Instructions
Mix all ingredients together. Form into small or medium meatballs. Coat bottom of skillet with olive oil and cook over medium/high heat. Add meatballs, turning occasionally to golden brown on all sides and cooked through. Plop into soup. Serve and enjoy!