Tuesday May 26, 2015
Inflammation is the root cause for many of the modern ailments. It triggers autoimmune diseases, as well as cancer.
There are foods and cooking techniques that can help tame inflammation and heal your body and your whole being!
Come join two food mavens: Susan Guillory and Carole Murko to learn 2 delicious menus and to tap into their collective wisdom.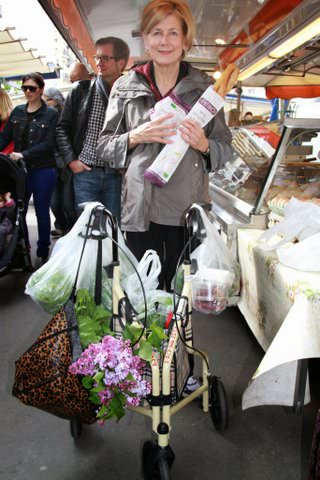 Susan Guillory was responsible for creating the first natural foods supermarket with her ex-husband. She has also been at the forefront of using food as medicine since the 1970's. For over two decades, Susan was the co-owner of Bread & Circus Wholefoods natural food supermarkets. She is considered to be a major contributor to the health foods and nutrition industry. Inspired by her passion for macrobiotics and natural foods, Susan studied cooking in China, Japan, and France. In addition to her responsibilities as co-owner and executive vice president, she developed and was the head of Bread & Circus natural food cooking schools in London, Dublin, and Boston. In 1992 Wholefoods of Austin, Texas purchased Bread & Circus.
Susan has been a member of the Dining Services Visiting Committee at Harvard and Board of the Women's Culinary Guild of New England, founded by Julia Child. Presently Susan is enjoying retirement, and continues her volunteer work in fundraising cooking classes for various organizations. Susan is a current member and past Chairperson of the Nutrition Roundtable at the Harvard School of Public Health and a past member of the Board of the Boston Public Market which will soon be opening a permanent, year-round farmer's market in downtown Boston. Susan contributes recipes for a blog based on the best-selling book, SAVOR, which was co-authored by Thich Nhat Hanh and Dr. Lilian Cheung.
Carole Murko is the founder and host of Heirloom Meals, a storytelling platform she created to celebrate heirloom recipes and stories, and explore the connection we have to our ancestral foods. Carole became keenly aware of the connection between food and disease when her husband, Jim, developed Celiac Disease in 2006. The simple elimination of wheat/gluten from his diet healed him. Then, Carole began to suffer from migraines and modern-day stomach issues (triggered by over-use of aspirin for her migraines) such as GERD and heartburn. Determined not to pop pills, Carole became a student of anti-inflammatory foods and digestion. Carole has cured her GERD and stomach with food. Carole has been active in the local food movement in the Berkshires and sat on the board of Berkshire Grown. She is currently a member of Les Dames Escoffier, and the Food Journalists Association. Carole has a weekly radio show on a local NPR station where she interviews people about their food memories. She produced and hosted two nationally televised PBS specials and is currently writing her food memoir. Carole grew up in the suburbs of NYC, has degrees from Smith College and NYU.
_______________________________________________________________________________________
Two Class. Two Menus.
July 7, 2015: 10am – 3pm
July 9, 2015: 5pm – 8pm
Day 1
Miso soup
Sprouted brown rice with kombu and turmeric
Green veggies with capers
Roasted veggies
Asian style steamed fish with ginger and scallion
Japanese kanten fruit dessert
Day 2
How to make medicinal stock
Buckwheat with medical stock
Kohlrabi salad
Cooked veggie salad with umeboshi dressing
Poached chicken
Fruit clafoutis for dessert
The classes are being held at Boulderwood Farm, Carole's Berkshire estate, 15 Ice Glen Road, Stockbridge. The open kitchen with breathtaking views is ideal for cooking demonstrations. Susan and Carole will lead you through the creation of the menu and then will sit down and dine with you. Over lunch or dinner, we will offer a question and answer and get to know one another.
Cost: $100 per class. $180 for the two.
Click here to sign up for the July 7th class.
Click here to sign up for the July 9th class.
Click here to sign up for both.